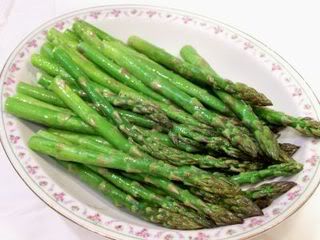 Preheat oven to 400 degrees.
1 to 2 lbs. fresh asparagus
5 Tbs. olive oil
3 Tbs. fresh thyme (chopped) - I've even used dried thyme and it worked fine, but only use about 1/2 tsp to 1 tsp.
salt & pepper to taste
*Spread asparagus out onto a baking sheet and drizzle olive oil over the top. Sprinkle thyme, salt, and pepper over the top. Bake for 15 to 20 minutes.