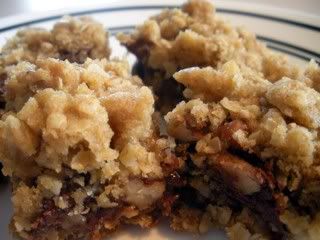 Preheat oven to 350 degrees.
1 cup flour
1/4 tsp. salt
1/2 tsp. baking soda
3/4 cup brown sugar
1 cup quick cooking oats
3/4 cup butter or margarine (melted)
1 cup chocolate chips
1/2 cup pecans (chopped)
3/4 caramel syrup & 3 Tbs. flour (mix together)
*Mix everything together, except for the chocolate chips, pecans, and caramel syrup mixture.
*Press 1/2 of oatmeal mixture into a 9x9 or 8x8 greased pan. Bake for 10 minutes. Set other half of oatmeal mixture aside.
*Remove from oven and sprinkle chocolate chips and pecans over the top. Drizzle caramel and flour mixture over the top of chips and pecans. Sprinkle remaining oatmeal mixture.
*Bake for an additional 15 to 20 minutes. Chill and cut!