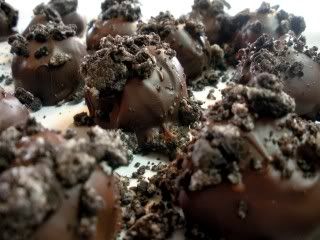 1 pkg. oreo cookies, divided
1 pkg. cream cheese, softened
12 to 16 oz. dipping chocolate, melted (I just used chocolate chips & melted them)
*Crush the cookies into fine crumbs in food processor; reserve small portion for sprinkling over truffles later. (I threw the cookies into a ziplock bag and crushed them with a rolling pin!)
*Place cookie crumbs into a medium bowl. Add cream cheese; mix until well blended.
Roll cookie mixture into small balls, about 1 inch in diameter.
*Dip balls into chocolate and place onto wax paper that is on a cookie sheet. Sprinkle truffles with remaining cookie crumbs (before the truffles harden). Refridgerate until firm, about 1 hour. Store leftover truffles, coverer, in refridgerator.
ENJOY!!!
I received this recipe from my husbands cousins wife, Brooke Shawver. Thanks Brooke! These are soooo yummy! But don't forget the glass of milk after you're done eating them!